Thank you for choosing bsdoll.com as your sex doll destination! Our SSL checkout system is applied to ensure your safety while shopping with us and we want to assure that your payment and personal data are sealed and protected to the fullest extent possible. This page lists a range of secure and flexible payment options for you to choose from. If you encounter any issues with your payment, please don't hesitate to contact us at [email protected] for assistance.
*Since sex dolls are high-value items, your bank risk system may potentially block the transactions. If your payment is declined, we recommend contacting your bank to get transaction approval. Once approval is granted, you can either attempt to pay again using the same method or try an alternative payment method. If you still failed to pay, please scroll down and at the end of this page, we listed payment failed reasons and corresponding solutions as references.

PayPal & Credit or Debit Card
PayPal offers several payment options to customers, including:
If you have a PayPal account, select PayPal and you can log in and pay with PayPal Balance, Credit or Debit Card, or Bank Account.
If you have a credit card but you don't have a PayPal account, select Debit or Credit Card under PayPal. You will be redirected to the PayPal checkout window, enter your credit card number, and pay.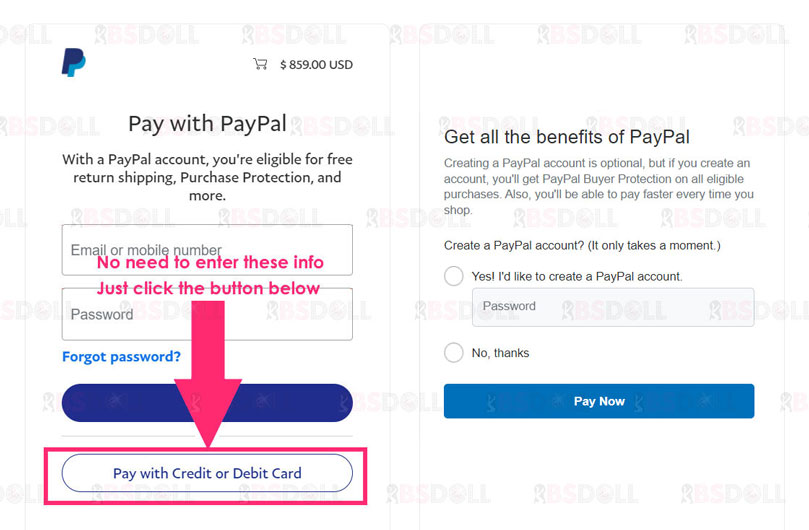 PayPal also offers Pay In 4 / Pay Monthly financing option that allows customers to pay for their purchases over time with no or little interest. If you can't afford the high interest or cannot pay in full, we recommend you to try and read PayPal Buy Now Pay Later.
If your PayPal payment is declined or you just want to rest & relax, we can complete the rest for you!
Simply submit an order by clicking PayPal invoice. You will receive a PayPal invoice later by email from the billing name LOVEDOL with the order number.
1. Open the email that contains the invoice from BSDoll. Click the "Pay Now" button within the email, which will take you to the PayPal website.
2. If you have a PayPal account, log in with your credentials. If you don't have a PayPal account, you can pay as a guest by clicking on "Pay with Debit or Credit Card" at the bottom of the page.
3. Check the invoice details, including the amount due and the merchant's information, to ensure everything is correct.
4. Once we receive your payment, you will receive an order confirmation email.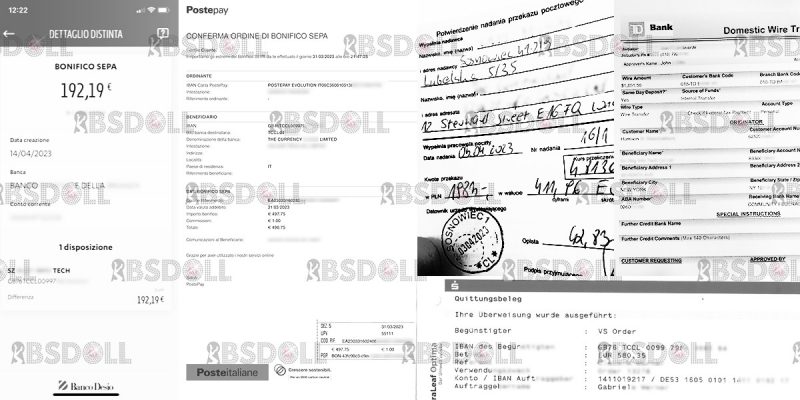 Bank transfer is safe and now can be applied to the majority of countries including the US, UK, Canada, Australia, European countries, and Asian countries, etc. The currency includes USD, CAD, AUD, EUR, GBP, HKD, CNY, CHF, DKK, JPY, NOK, NZD, SEK, and SGD.
1. Simply submit an order by choosing bank transfer as your payment method.
2. Later, based on where you live an email containing our local bank details will be sent to you. Also, our agent will apply the real-time exchange rate to calculate how much you should pay in your local currency and the amount of money and exchange result will be clearly shown as a reference in the email.
3. Please finish the bank transfer and send back any relevant proof like a receipt or screenshot. Once we confirm we received the money being transferred, an order confirmation email will be sent.
IMPORTANT NOTE: DO NOT PUT ANYTHING UNDER REFERENCE, SUCH AS ORDER NUMBER, NAME, ETC, OR IT WILL BE INSPECTED, WHICH WILL LEAD TO LONGER ORDER PROCESSING TIME AND POSSIBLY FAIL PAYMENT.
Cryptocurrency by Coinbase
We accept cryptocurrency checkout with Bitcoin, Ethereum, and USD Coin via Coinbase. You can simply submit your order and select pay cryptocurrency and you will be redirected to the Coinbase website and finish the rest steps. After the payment is completed successfully, you will receive our order confirmation email immediately.
BSDoll Layaway/Multi-Card/Split Payment (No Interest, No Hidden Fee)
Layaway Plan means splitting your payment into several parts. If you don't have enough money or you want to pay with multiple cards, you can use Layaway Plan.
How to use BSDoll Layaway Plan?
Submit a pending order: Add your doll to the cart and choose cryptocurrency payment but do not process payment.
Contact our customer agent at

[email protected]

or via online cat and let them know you wanna process a layaway order. They will calculate how much you need to pay on your first installment according to the pending order you just created then send you a Price Difference Link for you to process it.
Congrats! If it is a custom doll, we will notify our factory and they will start manufacturing your doll. If it is an in-stock doll, we will reserve the stock for you.
Please process at least 25% total payment every 30 days. After we receive the full amount of payment, we will ship the doll to you.
Read BSDoll Layaway Plan or consult our online agent for more details.
We understand payments may fail under certain circumstances, so we collected several common failed reasons and solutions here as a reference. 
If your payment won't process with your PayPal account or you're still having problems with your card, try:
Make the purchase again in a browser that's in Incognito mode, or in a different browser, or
Changing your payment method at checkout, or use a different credit card or PayPal account, or
If none of these issues apply, please contact us with your order number(if any), name and email address, error notification, and the screenshot of the error, we will check the details and assist you in continuing the order.
If you credit / debit card payment fails, please find the corresponding solution in the following content according to the prompt message.
For Whatever Reason or Just No Reason: Simply, pay again via PayPal. As PayPal accept almost all kinds of credit card as well as PayPal balance, bank account, PayPal Credit. At the same time, paying with PayPal gives you an extra level of security and fraud prevention.
Do Not Honour/High Risk/Fraud: It means declined by the card-issuing bank. You need to call your bank (Most of the time, they will call you first) to verify the transaction was processed by yourself, the cardholder, then pay again.
Duplicate: It means you have successfully paid for another order within 24 hours. The payment gateway is worried about repeated deductions so rejected this payment; if you need to process this payment, just try again via another payment metold.
Expired Card/Insufficient Funds/Over Credit Limit: You need to pay with a new card.
Stolen or Lost Card
The card-issuing bank marks the card as a lost card, and you need to pay with a new card.
Invalid Transaction: Currently, payment gateway supports Visa, Master, Diners Club & Discover (excepted American Express and JCB). Invalid transaction means that you used the other cards to pay, such as the cards that can only be used for refueling. You need to pay with a supported card.
CVV2 Failure/Invalid Card Number: Wrong billing info. You could check the billing info and pay again.
24hr More Repeat/Canceled: It means your payment failed more than 3 payments within 24 hours, so our payment gateway rejected the payment. You could pay again with a new card or check correct billing info and pay after 24 hrs.
Last but not least, note that you should be able to receive detailed information for any failed or successful transaction from your bank. If a payment fails, do not hesitate to contact us via online chat or email at [email protected].